The share of electric vehicles in global sales reached 10%, in Russia – 0.5%
The global market for electric vehicles last year overcame a significant milestone: for the first time, their share in sales of new cars amounted to about 10%. In Russia, this share has grown by a third. But this is rather a "merit" of the car market that has more than halved, and the number of cars sold with an electric motor is ridiculous – less than 3,000.
Global sales of all-electric vehicles in 2022 were estimated at 7.8 million, according to preliminary estimates from analyst firms LMC Automotive and EV-Volumes.com.
This is slightly less than 10% of total sales (80.6 million), but the share will be higher if plug-in hybrid vehicles (PHEVs) are included: EV-Volumes.com predicted that about 2.6 million such vehicles would be sold by the end of the year.
Sales of "clean" electric vehicles (BEV) soared compared to 2021 by 68%, while the global market as a whole dipped by 1%.
Electric takeoff
The main markets for electric vehicles remain European and Chinese (although the US is also gaining momentum). Thus, according to the China Association of Automobile Manufacturers, in 2022, buyers purchased 5.033 million "clean" electric vehicles (21.4% of all sales). If we take into account plug-in hybrids (1.515 million) and hydrogen fuel cell cars (in China, they are all included in the category of "cars on new energy sources" – New Energy Vehicles, or NEV), the share in sales will be 27.8% (6.548 million).
In 2021, the share of NEV machines was 16.4%, and in 2020 – 6.8%. At the same time, the authorities set a target of 15-25% by 2025, that is, it was already exceeded last year.
Sales of NEVs nearly doubled in 2022, up 94.3%, while the Chinese market cumulatively grew by only 9.5%.
In Europe, "clean" electric vehicles amounted to eleven% from all sales of new cars, and taking into account PHEV the share reached 20.3%according to LMC and EV-Volumes.com.
In Germany, which is Europe's largest car market, one in four cars produced was electric, according to the VDA car association. And in December, they overtook cars with an internal combustion engine in sales.
The picture for German auto companies is similar: a decline in the total production of conventional cars and a strong increase in electric cars, including rechargeable hybrids. Thus, in 2022, BMW's dynamics was minus 5% and more than 100%, while Volkswagen's was minus 7% and plus 26%.
In the US, the share of electric vehicles has grown to 5.8% from 3.2% a year earlier.
The explosive growth of the electric vehicle market will continue, Ralph Brandstätter, director of Volkswagen China, told reporters on Friday. In his opinion, soon sales of cars with an internal combustion engine in China will begin to decline steadily, including due to the rapid increase in the production of PHEV vehicles. "Last year, one in four cars we sold in China was a plug-in hybrid, and this year it will be one in three," Brandstatter said. "The turning point has not yet passed, but we expect it to happen between 2025 and 2030."
At the end of the year, Volkswagen was in 4th place in global sales, ahead of it are Chinese BYD and SAIC Motor. Tesla remains the leader, with sales exceeding the milestone of 1 million and amounting to 1.314 million vehicles.
skewed market
In Russia in 2022, 2,998 new passenger "clean" electric vehicles (BEVs) were sold, which is a third more than in 2021, according to Avtostat, citing registration data. According to the Committee of Automobile Manufacturers of the Association of European Businesses (AEB), only 400 of them were officially imported into Russia, the rest were imported by individuals or through parallel imports.
The share of electric vehicles increased from 0.15% in 2021 to 0.5%. But this is due to the catastrophe in the Russian market as a whole: it collapsed by 58.7%, sales amounted to only 626,300 units, according to Avtostat.
Tesla is still among the leaders – 995 cars (+35%). In second place was Volkswagen, whose sales soared 65 times to 435 vehicles thanks to the successful ID4 and ID6 models. Next, as in 2021, is Audi, but in fourth place is the Russian novelty Evolute (235 cars). In fact, this is the Chinese Dofeng, which is produced by the SKD method at the Motorinvest Lipetsk plant. The secret of success is that the Evolute i-Pro sedan is included in the soft lending program and costs about 2 million rubles with a state subsidy. (price ceiling).
For comparison: Volkswagen ID costs from 3.5 million rubles, and Tesla – from 6.2 million rubles.
This year, according to the AEB forecast, due to the start of production of electric vehicles in Russia (for example, Moskvich will have such a model), a sharp increase in sales may occur in the country: due to the replenishment of taxi fleets and car sharing services, 15-16 thousand electric vehicles. The general director of Avtostat, Sergey Tselikov, is skeptical about this forecast.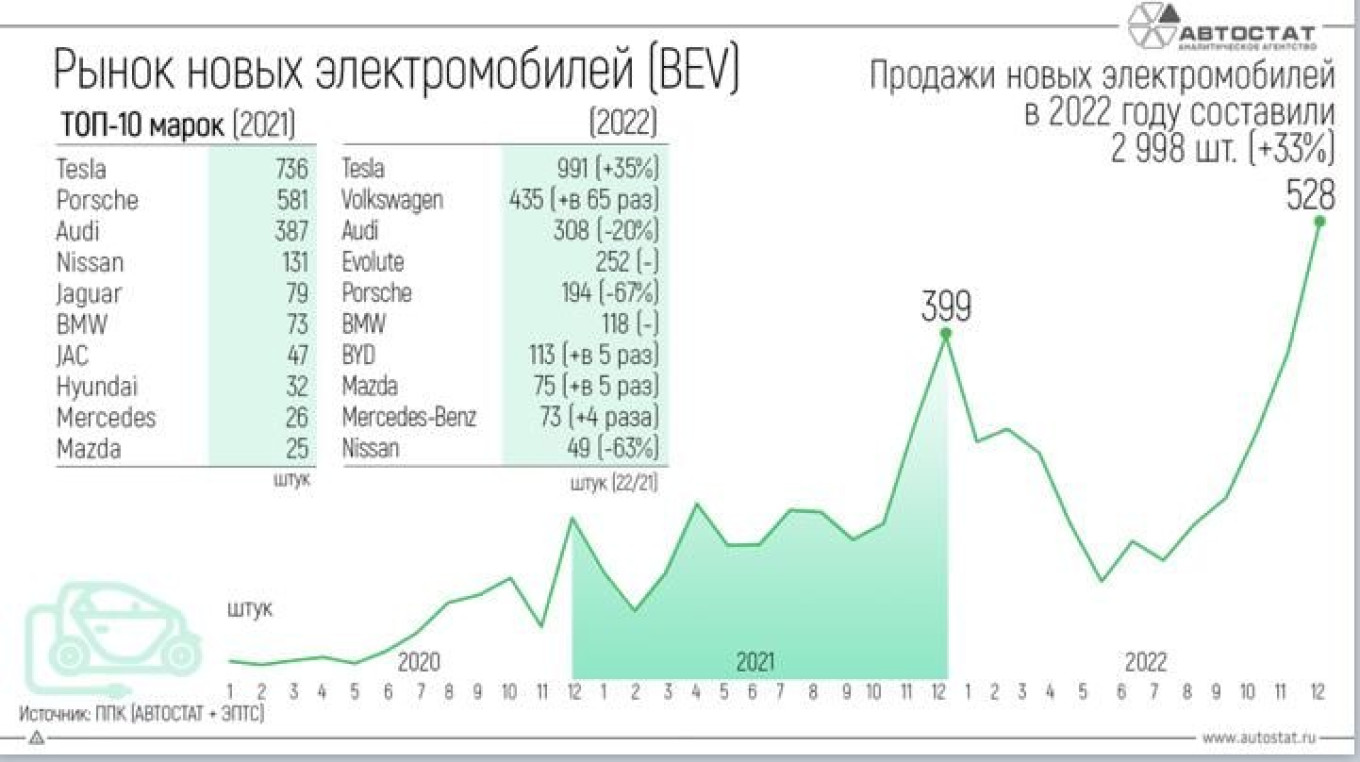 Globally, growth in demand for electric vehicles this year may not be as strong as in 2022, some experts warn, including Peter Fass, auto market analyst at Ernst & Young. The reasons are a slowdown in the global economy, high energy prices and a rise in the price of a number of key materials (for example, the price of lithium used in batteries increased by 1.7 times in 2022, which is why their cost increased by 7% for the first time in the last 12 years) . But if supply starts to outstrip demand, "we will see discounts again" on electric vehicles, which will boost sales, Fass adds (quoted by The Wall Street Journal).
.
About Author
jamesmorin