'When Calls the Heart' Season 11 Begins Production Ahead of Season 10 Premiere
The When Calls the Heart Season 10 premiere is still more than a week away, but the show's cast and crew are already looking forward to the next chapter in the story of Hope Valley. The Hallmark Channel drama recently started production on its upcoming 11th season.
'When Calls the Heart' cast returns to work on season 11
When Calls the Heart Season 10 premieres July 30. While Hallmark typically waits until after the previous season has ended to announce a renewal, earlier this year the network announced the show would return for season 11. Production on those episodes has already begun, producer Brian Bird recently shared in a social media post.
Several cast members have also shared updates from set, including Andrea Brooks, who plays Dr. Faith Carter. In late June (prior to the start of the actors' strike), she posted about costume fittings on her Instagram. Billy Christos Jr., who is joining the show in season 10 as a character named Toby, is also back at work, he shared in a series of social media updates.
How the Hallmark Channel show is dealing with the WGA and SAG-AFTRA strikes
While some of the When Calls the Heart cast has started work on season 11, some key people involved in the show won't be present on set, at least for a while. The ongoing SAG-AFTRA and WGA strikes mean that actors and writers who are members of those unions can't return to work.
In his update, Bird explained how the show – which films in Canada – is dealing with that issue.
"[O]ur intrepid and fearless Vancouver production team have prepared an extraordinary contingency plan that will honor the WGA and [SAG-AFTRA] strikes, while at the same time keeping the streets of Hope Valley very busy in the weeks and months ahead," he explained on Twitter.
For now, the workaround involves leaning on the show's Canadian cast and crew who can work during the strike.
"Production of season 11 begins with all of our fine Canadian writers and cast and crewmembers back to work while we wait for a peaceful resolution of these labor talks," he explained.
"When you experience season 11 in 2024, through the seamless magic of the filmmaking and storytelling process, it will make it seem like they were there all along," Bird added.
Bird went on to express support for those involved in the show who are on strike. "The studios and big companies…hold their future in their hands. Everybody would rather be working than holding picket signs, but if you do a little homework on the issues involved in these labor talks, you will realize why some of these hard choices had to be made."
Bird is a member of the WGA. Recently, he shared a photo of himself on the picket line in Los Angeles on his Instagram of him.
Hallmark stars show support for the strike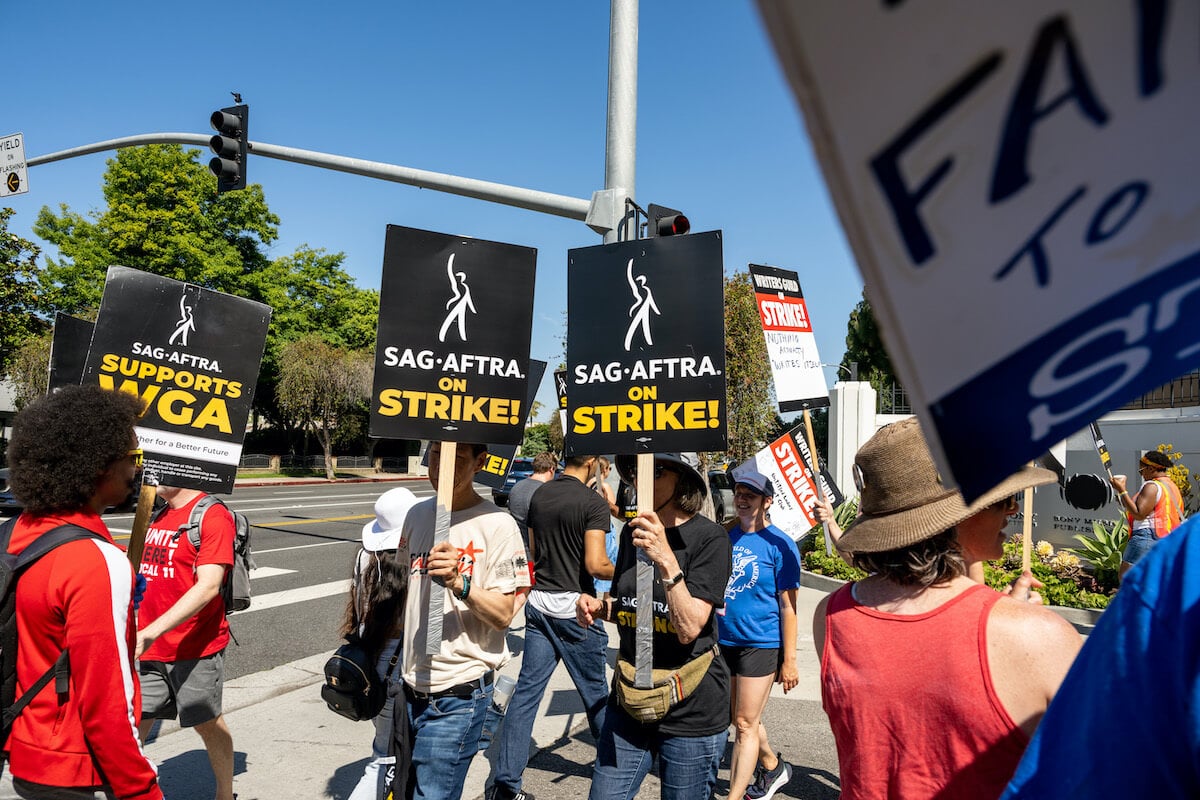 Bird isn't the only person associated with Hallmark speaking out in support of the strike. With most film and TV productions shut down, a number of Hallmark Channel actors have hit the picket line. They include Erin Cahill, who has starred in Hearts in the Game and A Timeless Christmas. She posted a photo of herself on Instagram holding a sign outside of Fox Studios.
"Our resolve has never been stronger, and together we have enormous power to effect real change in the entertainment industry," Mystery 101 star Kristoffer Polaha wrote on his Instagram.
Sara Garcia, who plays Valeria in Hallmark's new series ride, was candid about the tough economic reality for many working actors.
"Imagine doing multiple high-stress interviews for a job that last maybe a few days and not hearing back," she wrote in a Threads post. "Now imagine doing that day after day, week after week, and then finally landing on only to find out it barely covers rent, utilities, phone, groceries, etc. Let alone you don't qualify for health benefits. Now repeat this process. That's acting."
When Calls the Heart Season 10 premieres Sunday, July 30 at 9 pm ET on Hallmark Channel.
For more on the entertainment world and exclusive interviews, subscribe to Showbiz Cheat Sheet's YouTube channel.