'The White Lotus' Costume Designer Was Inspired By 'Love Island' Contestants
Season 2 of The White Lotus proved the hit series was not a one-hit-wonder. As the tension rose after each episode, most conversations focused on which characters were cheating on their spouses and whose dead body was being dragged out of the Mediterranean Sea. But fans also found time to praise or roast the outfits.
The White Lotus costume designer Alex Bovaird was nominated for an Emmy after her work on the first season. She recently gave an interview revealing her main sources of inspiration for the Gen Z cast members.
Creator Mike White's writing in The White Lotus is incredibly nuanced. He evokes every character's personality and backstory so well that they feel like real human beings. The scripts offer more than enough to inspire curiosity. But clothes are another storytelling method The White Lotus knocks out of the park.
Bovaird spoke to The New York Times about her process for finding the right pieces for each cast member. She looked for inspiration in the same places real Gen Z kids find it: social media and popular TV shows.
Portia's (Haley Lu Richardson) looks came from colorful influencers on Instagram. Her mishmash of styles from her is representative of her lack of resources and lack of direction in life. "Portia is a bit of a mess. She doesn't have money, makes some bad choices, and spends all her time on TikTok. So we wanted her clothes from her to reflect that," Bovaird explained.
She bought most of Portia's clothes and jewelry from Urban Outfitters, vintage shops, and other places in Rome. But she also gave Richardson some authority over the character by incorporating a bucket hat the actor crocheted herself.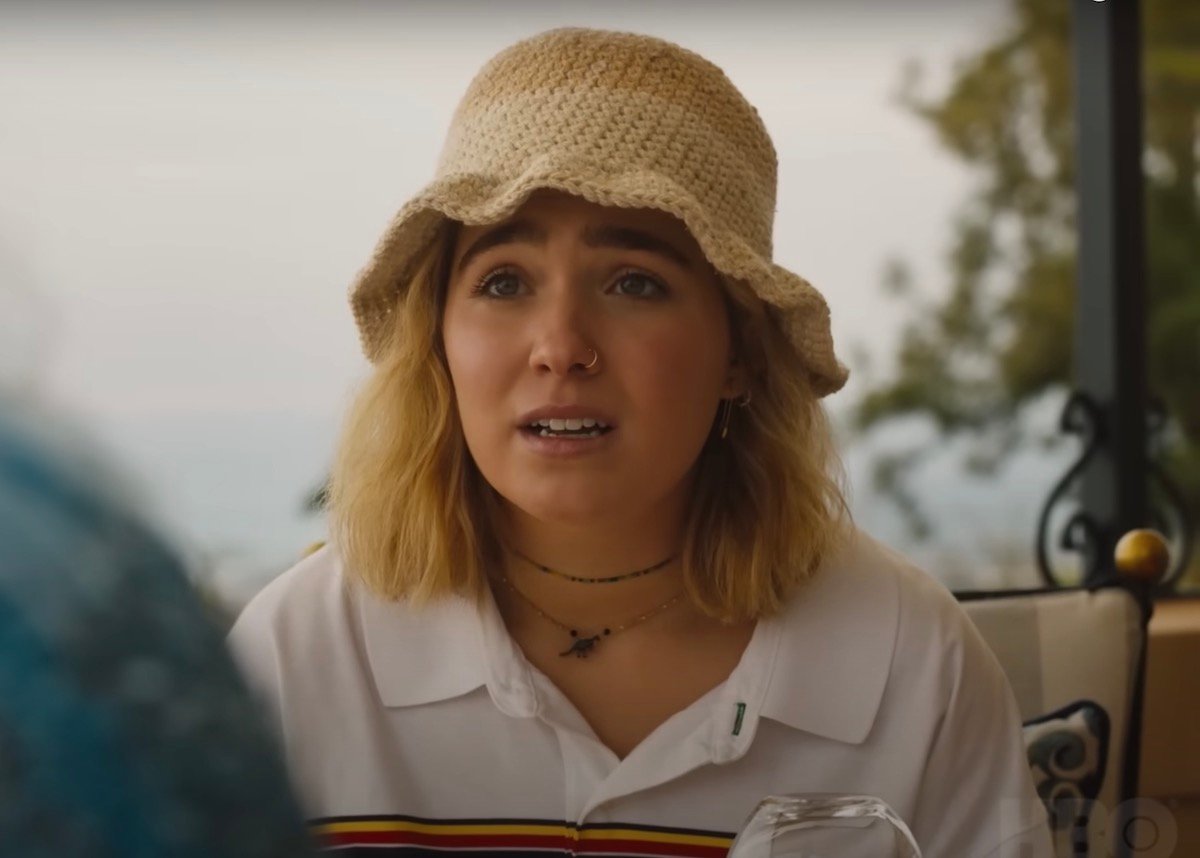 For Jack (Leo Woodall), Bovaird cribbed from the UK reality program Love Island. The "little short-shorts and tight T-shirts and bold colors" worn by many of the contestants caught her eye on her. In the case of alleged nice guy Albie (Adam DiMarco), she dressed him in normcore staples like Under Armor and cargo shorts to reflect his naivety.
For the local hustlers Lucia (Simona Tabasco) and Mia (Beatrice Grannò), all of Bovaird's choices were informed by the knowledge that they were working-class girls trying to fit in with a much richer crowd.
Bovaird had more fun with the looks for the younger characters
Bovaird also designed the looks for the older characters. Still, she felt more freedom to take more chances with the dress sense of the young adults. They "are expressing themselves in a really adventurous, chaotic way," Bovaird explains.
Many of the storylines in The White Lotus go well beyond the point of reference for most viewers. Most of us will not go on a fantasy trip to Palermo with a group of suspiciously accommodating hosts.
But the show still speaks to something universal about human nature. Bovaird's fashion choices contribute to a surreal but believable tone defined by Mike White as a fever dream.
for The White Lotus, we try and make it realistic, but also we heighten it and go a little bit overboard," Bovaird says. "So even though they're grounded in reality, they're a little bit over the top. It's comedic."
The designer was struck by the internet's response to Portia's outfits
No one's fits were nearly as divisive as the strange outfits of "Poor Fashion Portia." Bovaird confirmed her character provoked the strongest reaction she'd ever seen in her career.
Becoming the main character on Twitter (or, in this case, choosing her clothes) can be a tough experience for many, especially when you have noted publications like Vogue describing Portia's style as a "bad hip California young person working a job they hate" .
The designer understands both sides of the discourse. Bovaird explained, "It's kind of everything that everyone's saying, all at once," before admitting Portia's appearance of her is nostalgic for her:
"I think I'm slightly protective of Portia. When I was, like, 25, I went to Las Vegas and bought a hat at a gas station and wore it the whole weekend. It was the most horrible red felt cowboy hat that I thought looked really amazing. So it was fun to do a character that was getting it a bit wrong, but also having fun."
Sure, some of Portia's outfits don't make any sense. But if you've ever been an unsure 20-something, you've tried to pull off some stuff that will make you cringe in hindsight.