Sorry Birkenstock Fans, Carrie Bradshaw's Gucci Boston Clogs Are Not an Official Collaboration
sex and the city It was just as much about fashion as it was about friendship and sex. The HBO Max reboot, And Just Like That… is not different. Over the years, the fierce foursome's fashion choices have been heavily discussed. Recently, Carrie Bradshaw was spotted in Birkenstocks, and fans can't stop talking about them. They weren't just any old pair of the brand's iconic Boston clogs, though. Carrie's Birks were wrapped in the famous Gucci monogram. So, are the shoes real and can we buy them? Unfortunately, the answer is no.
Carrie Bradshaw's outfits for season 2 of 'And Just Like That…' have fans talking already
Carrie Bradshaw is known for her wild fashion choices, and season 2 of And Just Like That... doesn't have plans to disappoint fans who tune in to see what crazy "getup" Carrie is wearing now. In the reboot's inaugural season, she donned dishwashing gloves outside once and wore a tulle skirt to procure her morning coffee.
In season 2, which is finishing up filming this month, Carrie will be wearing several wild ensembles. No wardrobe choice got fans talking more than the strange decision to dress Carrie in sweatpants, tube socks, and a mohair bathrobe to meander down the street. What was on her feet de ella, however, garnered the most discussion. Carrie Bradshaw was wearing a pair of Gucci-monogrammed Birkenstock clogs.
The coveted Gucci Birkenstock clogs won't be available to the public
Carrie Bradshaw's Gucci-monogrammed Birkenstocks had fans talking, but sadly, they won't be able to get their hands on their own pair. Birkenstock has collaborated with many big brands over the years, but Gucci isn't one of them.
Carrie's footwear isn't a sign of things to come, according to High Snobiety. The publication reached out to Gucci and was informed that Carrie's Boston Birks are not an official collaboration. Most likely, the Birks were crafted as a custom, one-off piece, but we would love for them to make their way into the iconic company's collaboration lineup.
You can still dress like Carrie Bradshaw in flats
While Carrie's coveted Gucci clogs won't be available to the public, fans can still feel like their favorite sex and the city character without pulling on a pair of stilettos. Carrie doesn't wear flats very often. In fact, she has only worn a pair a handful of times. Carrie wore sneakers in the original series a few times. More recently, in And Just Like That… season 1, she pulled out a couple of notable sandals that are somewhat accessible.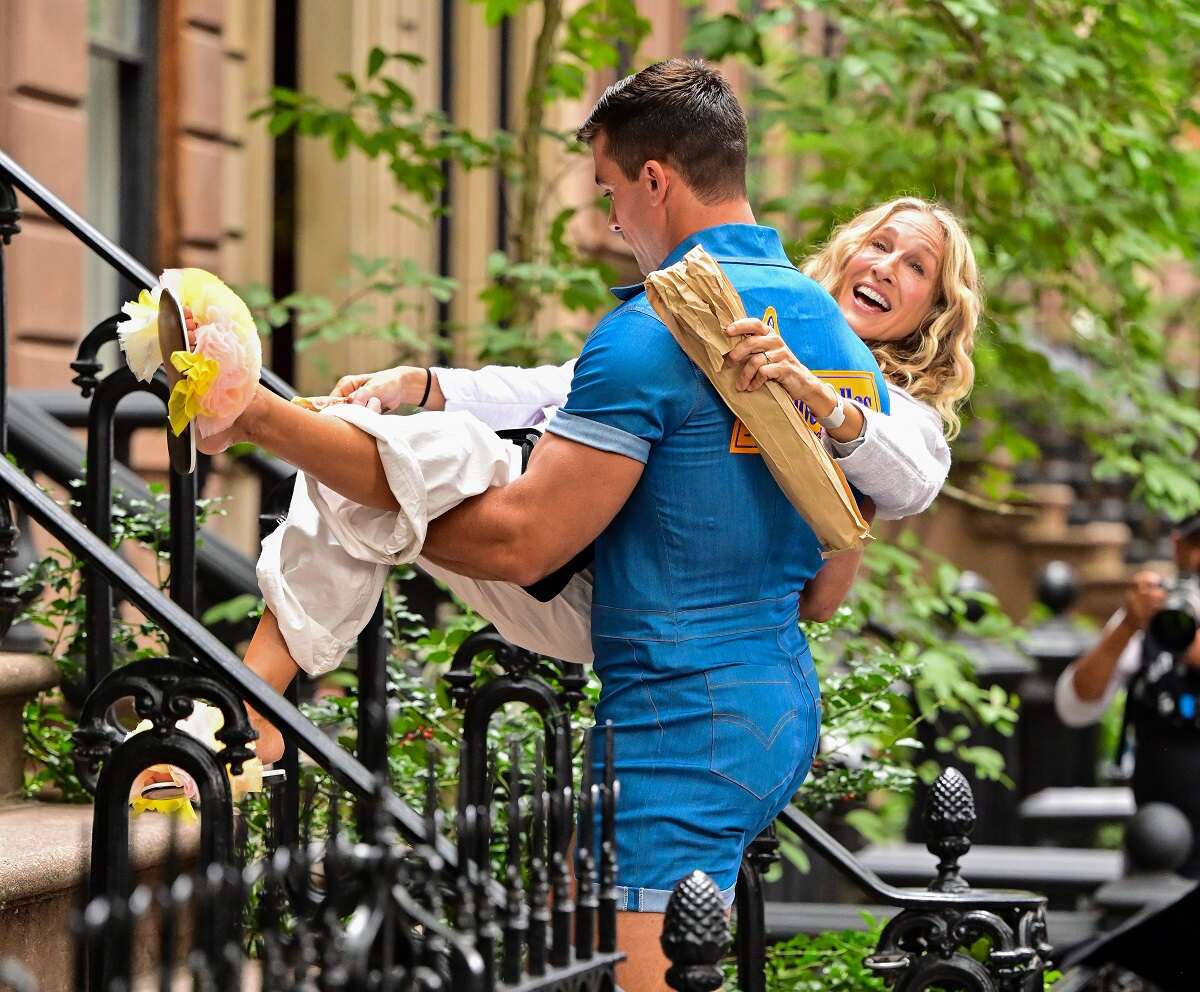 In the episode "Tragically Hip," Carrie rocked a pair of Birkenstock sandals, in a traditional colorway, to her hip surgery. Carrie never wore them again. After the operation, she went for a more fashionable footwear option for the ride home from the hospital. She wore a pair of Tomo Koizumi x Emilio Pucci slides. The eye-catching tulle slides are available on Net-A-Porter for around $300 right now.
Fans interested in getting creative with their fashion inspiration needn't look further than the Manolo Blahnik x Birkenstock collaborations. While Carrie never wore the collab herself, she did have a deep affinity for Manolo Blahnik's designs. We could envision her choosing the showy slides and clogs as her de ella house shoes de ella.