'Shark Week' 2023 Kicks Off July 23 With Host Jason Momoa: See the Full Schedule
TV
From cocaine sharks to monster makos, here's the complete lineup for Shark Week 2023 on Discovery, which begins July 23.
Television's most shark-tastic week is almost here. Discovery Channel's Shark Week 2023 kicks off on Sunday, July 23 and runs through Saturday, July 29. Aquaman star Jason Momoa hosts the 35th annual event, which features nearly 20 hours of new programming about the ocean's most fearsome predators. Highlights include Cocaine Sharks, which reveals what might happen to sharks that feed on drugs dumped in the water off the coast of Florida, and Monsters of Bermuda Triangle, which looks at the mysterious disappearance of a pregnant Porbeagle shark. Keep reading for the full Shark Week 2023 schedule.
Shark Week 2023 schedule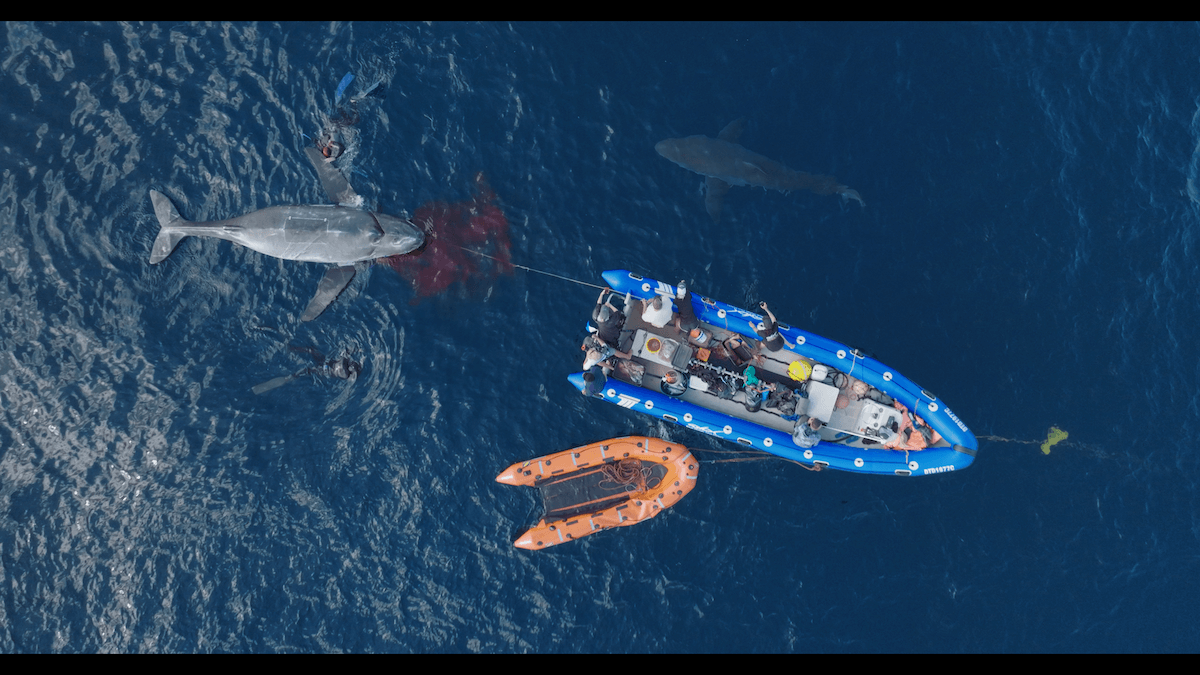 Sunday, July 23:
Belly of the Beast: Feeding Frenzy at 8 pm: In a Shark Week first, this special follows researchers with cameras as they brave a great white shark feeding frenzy from inside a life-size whale decoy.
Jaws vs. Meg at 9 p.m.: The massive 60-ton megalodon shark, or "The Meg," was once the ocean's most terrifying predator. But new evidence suggests that its cousin, the great white shark, may have caused its extinction.
Serial Killer: Red Sea Feeding Frenzy at 10 p.m.: Shark attack investigator Brandon McMillan and cinematographer Fo Zayed attempt to discover what's behind a trio of recent deadly shark attacks on the shores of Egypt's Red Sea.
Shark Week: Off the Hook at 11 pm: Revisit the most thrilling and terrifying moments from the past 35 years of Shark Week.
Monday, July 24
Great White Fight Club at 8 pm: Experts explore the treacherous waters of New Zealand in search of evidence that female white sharks are the unequivocal queens of the ocean.
Monsters of Bermuda Triangle at 9 pm: When a pregnant Porbeagle shark vanishes in the Bermuda Triangle, evidence suggests an unknown, monstrous predator could be to blame.
Alien Sharks: Strange New Worlds at 10 pm: Wildlife biologist Forrest Galante expires kelp forests and ocean depths off the tip of South Africa, which are hotspots for unusual sharks.
Tuesday, July 25
Mako Mania: Battle for California at 8 pm: Dr. Craig O'Connell, Fo Zayed, and Kendyl Berna use state-of-the-art technology to study a new population of fierce super makos that are challenging great whites for hunting territories off the coast of Los Angeles.
Raiders of the Lost Shark at 9 pm: Matt Dicken and Dickie Chivell search for an elusive and colossal shark that mysteriously vanished years ago from Gansbaai, South Africa.
Monster Hammerheads: Killer Instinct at 10 pm: Dr. Tristan Guttridge uses tissue samples of other sharks to prove his theory that Hammerhead sharks can reach monster sizes by hunting other species of sharks.
Wednesday, July 26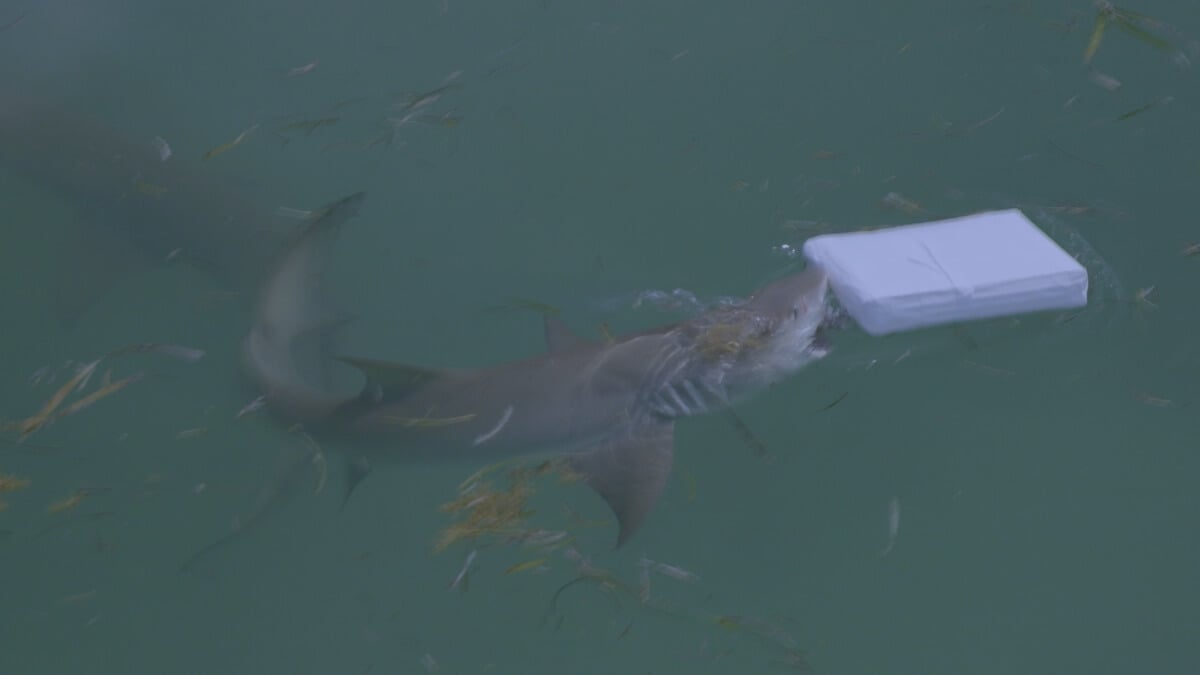 Air Jaws: Final Frontier at 8 pm: Shark filmmakers Andy Casagrande and Jeff Kurr hunt for "Air Jaws" in New Zealand's hidden launch pad.
Florida Shark: Blood in the Water at 9 pm: Paul de Gelder ventures into the shark attack capital of the world to discover why the waters are so dangerous and determine methods to mitigate the risk.
Cocaine Sharks at 10 pm: Shark expert Tom Hird heads to the Florida Keys to investigate decades-old rumors of cocaine-fueled sharks.
Thursday, July 27
Jaws in the Hollows at 8 pm: Shark Week veteran Dr. Riley Elliott and his wife Amber Jones investigate the great whites that are terrorizing New Zealand's beaches.
Monster Mako: Fresh Blood at 9 pm: Dr. Austin Gallagher and free diver Andre Musgrove use a custom clear acrylic diving bell to get an up-close look at mako sharks and great whites off the coast of California.
Shark vs. Snake: Battle of the Bites at 10 pm: When dead tiger sharks start washing up on Western Australian beaches, Forrest Galante theorizes that vicious sea snakes could be to blame.
Friday, July 28
Tropic Jaws at 8 pm: When a massive great white appears on the warm, tropical coast of Bali, Indonesia, Dr. Craig O'Connell and Madison Stewart set out to discover why the fish have left their familiar cold water environment.
Deadly Sharks of Paradise at 9 pm: Marine biologist Danni Washington and shark conservationist Paul de Gelder join a team of South American scientists who are studying the tiger sharks thought to be behind a series of deadly attacks in Brazil.
Haunting at Shark Tower at 10 pm: After reports of a harrowing shark encounter at North Carolina's Frying Pan Tower, underwater cinematographer Andy Casagrande and shark expert Kori Burkhardt set out to discover whether great white sharks are moving into the state's waters.
Saturday, July 29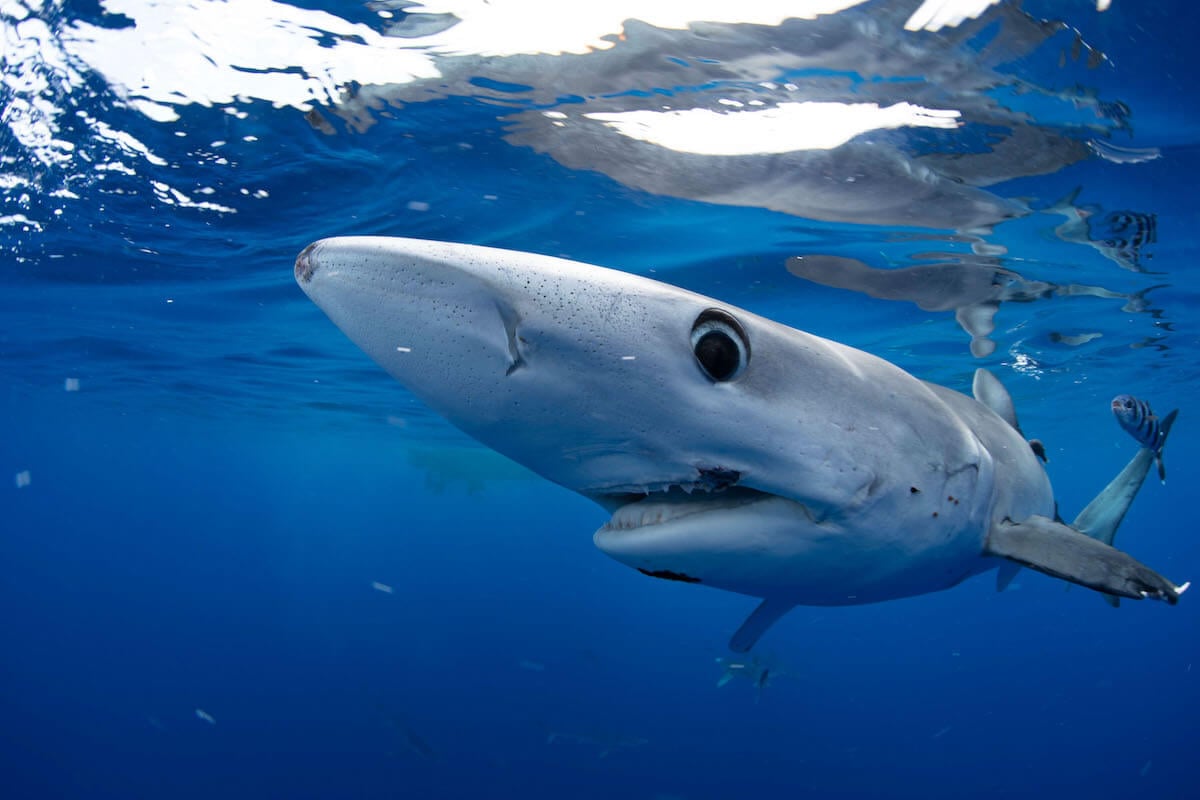 Dawn of the Monster Mako at 8 pm: Underwater cinematographer Joe Romeiro and his wife Lauren, a marine biologist, search for a 14-food giant mako shark that's been spotted in the waters of Portugal's Azores Islands.
Mega Sharks of Dangerous Reef at 9 pm: The remote islands off of South Australia's Eyre Peninsula in South Australia supposedly harbor some of the biggest white sharks on the planet, though they are rarely seen.
How to watch Shark Week 2023
All new Shark Week 2023 programming will air on Discovery. Encore presentations will run most nights at 11 pm ET/PT, also on Discovery.
Shark Week will also be available to stream on Max.
Can't get enough of the most terrifying predators in the sea? National Geographic's Shark Fest 2023 programming is now available to stream on Disney+ and Hulu.
For more on the entertainment world and exclusive interviews, subscribe to Showbiz Cheat Sheet's YouTube channel.