10 Actors You Forgot Were on the Hallmark Show
Over the years, When Calls the Heart fans have seen plenty of faces come and go from Hope Valley. Few fans will forget Daniel Lissing's Jack Thornton, who tragically died in the season 5 finale. And many have fond memories of Lori Loughlin's Abigail Stanton, who was written off the show following the actor's legal problems. And that's just the tip of the iceberg. Here are 10 other actors even some dedicated Hearties may have forgotten appeared on When Calls the Heart.
Marcus Rosner as Charles Kensington
The early seasons of When Calls the Heart were all about Elizabeth (Erin Krakow) and Jack's love story. But even though the Mountie had her heart de ella, that did n't mean there weren't other men who hoped to capture her attention de ella. They included Charles Kensington, a childhood friend of Elizabeth's from Hamilton. In season 2, the character – played by Marcus Rosner – came to Hope Valley and proposed to her. But Elizabeth, who was already in love with Jack, rejected him. Charles exited the field, and he hasn't been seen since.
Rosner – who plays Austin McMurray on Hallmark's new series ride – spoke fondly of his time on When Calls the Heart. However, he doesn't think it's likely Charles will make another visit to Hope Valley.
"I think the moment has come and gone, I got a lot of good friends on that show still and they're chugging along with great success," he recently told Express. "It would be very hard to envision Charles back in town."
James Brolin as Judge Jedidiah Black
Emmy-winner James Brolin appeared in When Calls the Heart Season 1 finale. In "Prelude to a Kiss," he played circuit judge Jedidiah Black, who arrives in Hope Valley (then known as Coal Valley) to bring justice to the town, which was still reeling from the mining disaster. However, by the time the trial actually takes place in the season 2 premiere, Judge Black has left town under mysterious circumstances. He hasn't appeared since then.
Brooke Shields as Charlotte Thornton
Viewers who've been following When Calls the Heart since the beginning undoubtedly remember Brooke Shields' appearance in season 3. But newer fans may not realize that the legendary actor guest starred in two episodes of the frontier drama as Jack's mother, an Annie Oakley-esque woman named Charlotte Thornton.
"She's a poker playing, horseback riding, call-it-like-it-is woman," Shields told People at the time. "I identify with her de ella energy de ella – she's one of the guys but also a really good mom."
Unfortunately, Charlotte hasn't been seen on WCTH since the season 3 finale. While her beloved son is dead, we can't help but hold out hope that the character will return to reconnect with Elizabeth – and meet her de ella grandson de ella, Little Jack.
Cindy Busby as Marlise Bennett
Cindy Busby is a familiar face at Hallmark Channel. She's starred in Hallmark movies such as Marrying Mr. Darcy, Love in Yosemite, and Romance in the Air, as well as the series Cedar Cove. So it makes perfect sense that she'd pop up in When Calls the Heart. In season 4, she played Dr. Carson Shepherd's (Paul Greene) sister-in-law, Marlise Bennett. Marlise visits Hope Valley and stirs up trouble for the new-in-town doctor when she accuses him of playing a role in her sister's death.
Busby only appeared in two episodes of When Calls the Heart, though she told International Business Times that she'd be interested in returning to the show. However, given that Carson has left Hope Valley, it's unlikely we'll see her again.
Ali Skovbye as Becky Hastings
These days, Ali Skovbye is lighting up the small-screen as young Tully in Netflix's Firefly Lane. But Hearties will recognize her as Becky Hastings, the older sister of Cody Hastings (Carter Ryan). The siblings were orphans who were eventually adopted by Abigail Stanton. Becky appeared occasionally in seasons 3-5 of When Calls the Heart. Skovbye left the show when her character de ella went to college.
Chelah Horsdal as Cat Montgomery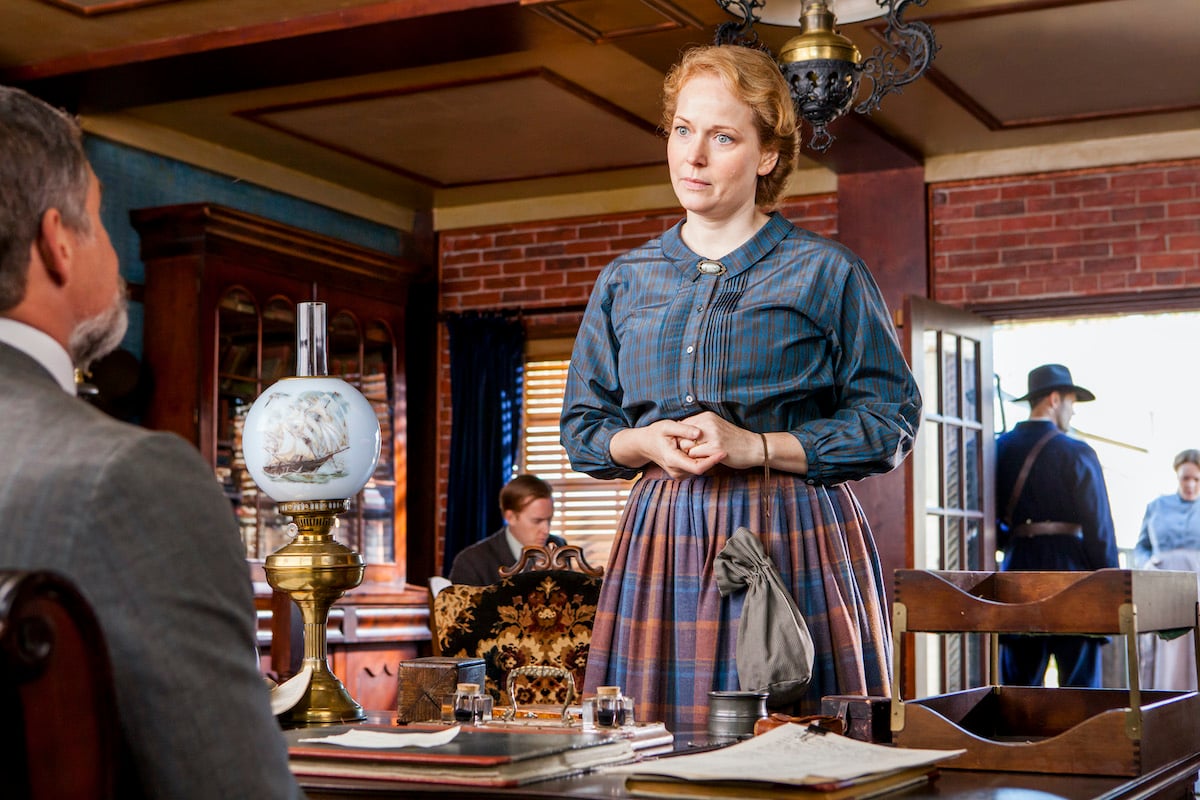 Skovbye isn't the only Firefly Lane actor with a When Calls the Heart connection. Chelah Horsdal, who plays Kate's mom Margie Mularkey, played Cat Montgomery in the first season of the Hallmark series. Cat was a mother of three who lost her husband in the coal mine disaster. She was prominently featured in season 1, but disappeared in season 2. According to Horsdal, that was due to a shift in the show's focus.
"I loved the portrait of women working together and supporting the collective. As things evolved, there didn't seem to be as defined a place in the storytelling for characters like Cat Montgomery," she told My Devotional Thoughts in 2017. The actor added that although she knew some fans "were quite attached to Cat," she could "confidently say" she wouldn't be returning to the show.
Andrew Walker as Billy Hamilton
In When Calls the Heart Season 1, Elizabeth's head was briefly turned by the charming Billy Hamilton, played by frequent Hallmark Channel leading man Andrew Walker. The smooth-talking Billy romances Elizabeth, but Jack is suspicious of her motives. Eventually, Elizabeth realizes that Billy is aware she comes from a wealthy family and is only after her from her for her money from her.
Niall Matter as Shane Cantrell
Niall Matter is another Hallmark Channel regular who briefly appeared on When Calls the Heart. He joined the show in season 4 as Shane Cantrell, a widower with a young son. Shane was positioned as a potential love interest for Faith Carter (Andrea Brooks), and the two even shared a kiss. Unfortunately, their romance never really went anywhere. Shane was dropped from the show in season 5, much to Matter's disappointment from him.
"I was signed on to do the show, and I planned on being around for awhile, but for whatever reason, my character was no longer needed on the show… I'm not sure why this happens with shows sometimes, but I will say I loved my time on When Calls the Heart," he told My Devotional Thoughts in 2017.
Josie Bissett as AJ Foster
Josie Bissett reconnected with her one-time Melrose Place co-star Jack Wagner when she joined When Calls the Heart for a handful of episodes in seasons 4-5. Bissett played AJ Foster, a fugitive accountant who disappeared before she could testify against Henry Gowen (Martin Cummins). Bill Avery (Wagner) tracks down AJ and the two eventually develop feelings for each other, even sharing a passionate kiss. However, things weren't meant to be for the lawman and the outlaw, and at this point, it seems unlikely that Bissett will return to the show.
Kristina Wagner as Nora Avery
Jack Wagner also shared the screen with former General Hospital co-star and ex-wife Kristina Wagner in When Calls the Heart Seasons 1 and 2. She played Bill Avery's ex-wife Nora Avery, who turns up in Hope Valley to deal with an unfinished business between them. To make things more complicated, Nora also had a past with the shady Henry Gowen.
The actor admitted that it was scary to work with his ex again, though not for the reason some fans might think.
"It was very frightening to work together again," he told City News Everywhere. "We know each other from that one format which is General Hospital and we knew exactly what to do there. These are new characters. But we really worked through it and we have a great chemistry."
When Calls the Heart Season 10 premieres July 30 on Hallmark Channel.
Source: International Business Times
For more on the entertainment world and exclusive interviews, subscribe to Showbiz Cheat Sheet's YouTube channel.